There seem to be three types of matches at this World Cup. There are the matches where the stronger team beats the weaker team (Spain, England, France). There are the shocks, where the stronger team is undone by an opponent who is slightly better than expected (Saudi Arabia, Japan), and there are the even matches where not much happens (the others). With only one shot on target (plus two hitting the post) this was in the third category.
There is a great temptation to come up with a thin grand theory as to why this should be so. There's hardly any data, but let's indulge anyway. Could it be that all three game modes are a result of the lack of prep time, four weeks compressed into four days? Some teams, who played in continental competition last year and are comfortable with how they plan to play, are still in the rhythm of their domestic seasons and so got going right away.
Others could have used more time to refine, to try to generate something close to the cohesive styles now prevalent at the club level. Aware of their shortcomings, they naturally become more risk averse, defensive structures are much easier to assemble than the offensive systems they can overcome, and the result is toughness. And this was extremely tough – or, as South Korean coach, Paulo Bento put it, "a very competitive game with a very high level of play between two teams that respected each other".
One of the best things about World Cups is meeting old friends. Usually that means journalists, or Belgium, but Uruguay has a pleasing array of familiar faces, so watching them is like firing up a random snooker tournament in the middle of the afternoon and discovering that Jimmy White is still bravely going up against John Higgins. There, Luis Suárez, who was scurrying around at the front, was a huge annoyance – although, as he only managed 14 touches, maybe not as great or as annoying as he used to be. There, coming off the couch, were Edinson Cavani's flared cheekbones. And there, in the heart of the defence, gnarled, implacable, half as old as time, was Diego Godin. He even headed against the foot of the post three minutes before half-time for the sake of old times.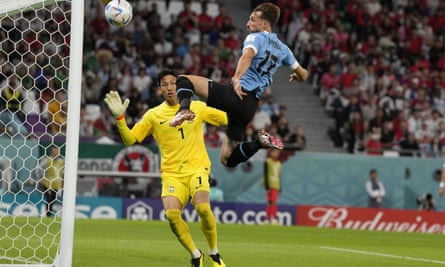 There was also Martín Cáceres still puffing up and down with his man bun. Of the Uruguayan back four, he was the one with the most work to do, with Na Sang-ho probably South Korea's biggest threat. It was from the FC Seoul striker's low cross that Hwang Ui-jo shot over after 34 minutes. Right-back Kim Moon-hwan sank to his knees in desperation, which seemed like an overreaction given there was at least an hour left to play, but maybe he knew how few chances there would be.
And Uruguay plays in a pleasantly unchanging manner. Football should always be in development. We may now live in a world of high lines and low blocks, of half spaces and transitions. But Uruguay, despite all the talk of revolution from former coach Óscar Tabárez, remains steadfast and ever-defensive – even if there was a slightly unsettling moment early in the second half when Rodrigo Bentancur, a product of Tabárez's holistic approach to youth development , performed a figure-eight pirouette to get the ball out of trouble just outside his own penalty area.
Sometimes it's nice, like when José María Giménez expropriated Son Heung-min five minutes into the second half with a wonderful sliding. But most of the time it's just a little frustrating: why, when they have such talent in the squad, do they seem so reluctant to use it?
"We wanted to match their level of aggression," said Bento. "We did that in the first half." At the 2019 Asian Cup, South Korea was criticized for dominating the ball and doing little with it. The first half here seemed to follow that pattern, but Uruguay gradually started to assert itself as the game progressed. "We couldn't put pressure on Korea and lost precision," said Uruguayan coach Diego Alonso. "We had to make substitutions at halftime and were able to defend higher."
But they didn't assert themselves enough to win the game, or to pose a real threat, at least until Federico Valverde pinged a 25-year-old against the post in the 89th minute. Avoiding defeat is perhaps the most important thing in the opener in the group, but this was a game where both sides would have been happy to shake hands in a half-time draw.